---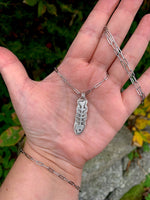 Fish Skeleton Necklace
Laura Lotus Love
Why fit in, when you were born to stand out!
For many the fish skeleton represents strength, connection, freedom, abundance, and a great respect for nature and the ocean.
Symbolizing a love and appreciation for that outdoor life! Whether it be fishing, diving, camping, or just being on or by the water!
This tiny fish skeleton pendant was sawn out by hand with a saw blade thinner than an eyelash. This necklace is perfect for everyday wear!
Gender Neutral!
3D pendant in sterling silver. 13cm long, 1cm wide
22" paperclip chain in stainless steel.
No tax
************
Every element of my work is 100% handcrafted by me out of flat silver sheet and wire! Then it's brought to life with layering, sculpting and hand engraving texture to each piece.
This makes each piece truly one-of-a-kind and there is so much love, intention AND time in every step of the process. 

*Thank you so much for supporting my art and keeping my dream alive.
My hopes is that you find and connect to something that speaks to your soul and brings you so much joy & happiness whenever you wear it.